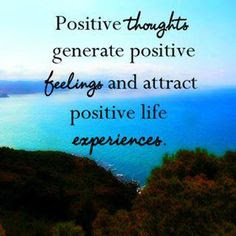 Did you know that you are a MAGNET to everything you think about?  When you think positive thoughts (about yourself, people around you, situations, experiences etc.) you attract MORE positive around you?
It's TRUE!  I feel like I've experienced this SO many times!
You know that feeling when you wake up and put on your favorite outfit and you have this fleeting thought, "wow! That looks really good on me today!  I feel awesome!"  Then you notice that you hold yourself taller that day and smile more at the folks around you…more people smile back at you and you feel even better…you get a text from a friend asking you out for coffee and you are thinking, "wow! This day is getting better!"
You are happy because you kept your promise to yourself about going to exercise class at EF and when you get there the instructor tells you it's going to be a GREAT workout and we are doing your favorite exercises!!  Class is fun, you are working extra hard because you feel strong and your team asks you if you've lost weight and that you look amazing…It all started with you looking at yourself and thinking, "I look and feel good today".
Your thoughts can help you change your life for the better OR, on the flipside, they can push you down, keep you stagnating, afraid to change…
Have you heard of "stinkin' thinking"?  It's the mean self-talk, negative thinking, gossip and projecting that get in the way and creates problems and roadblocks to us moving forward in our big goals for ourselves.
Stinkin' thinking leads to longing for what we don't have, discontent andmakes us victims.  No bueno!
NOW is a great time to create a VISION of who you want to BE.   Be specific in your positive thoughts.  Envision a strong, confident, caring, inspiring, healthy, happy YOU!
Now if you'd love MORE good for yourself, what would that take?
That's the next set of questions…"what will help me move the dial forward in my goals this year?" .."How will I show up for those goals"?  "Who or what can help me?" "Can I believe that it's possible?"
I promise if you show up POSITIVE and chuck the "stinkin' Thinking" you will be amazed at all the positive experiences you start to attract!  This is just the tip of the iceberg! 🙂  But start with ONE POSITIVE THOUGHT right now as you read this! 🙂
As always, I'd love to hear from you and how we can help you be YOUR BEST YOU this year (and the rest of your life!)  We ALL need accountability and success support!   
In good health,
Diana